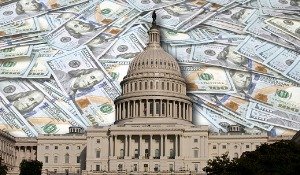 Government Money, Where Does It Go and How Might It Affect Your Business?
As younger generations reach the age of 18 and older, technology will continue to make advancements in the private sector. These tech-savvy individuals will expect the latest, most convenient, and most secure technology in nearly every aspect of their lifestyles as they move through the world. While many companies already have developments in the works to stay in front of the competition and adapt to rapidly evolving technology options, the government needs to keep in step with citizen convenience and technology demands as well, especially when it comes to paying or receiving money of any kind.
Where the Government Payments Sector Stands Today - Currently, the payments industry in the United States is among the most advanced compared to other countries. Millennials are already using this technology in their everyday lives and Gen Z is being raised to become accustomed to it as well. These government entities must continue to incorporate new technology when it arrives. Doing so will help allow for the continued use of these agencies by younger audiences. In a study done by Conduent, one of the largest digital payment processors, 62% of 2,000 consumers surveyed said, "The government should experiment with new technologies and innovate". Currently, people report that government websites and payment processes are too difficult to navigate. One of the biggest complaints is the lack of consistent flow with each step and navigation through the process. People want a "beginning and an end" as they go through the process, and as of right now, government technology has people jumping through hoops to register for social services, pay child support, or enroll in government insurance. For a large majority of these tasks, they simply cannot be done online. Instead, people are required to visit these agencies, work through the processes with someone, and use valuable time. These methods are too slow in the fast-paced modern world that we all live in.
Security Matters the Most - Billions of dollars are stolen each year because of identity theft and other cyber-crimes. When it comes to an individual's private information, such as bank accounts and social security numbers, most people want as much protection as possible. Some would think that peoples' information in the government's hands is the best choice, but in a survey by Conduent, 91% of the subjects surveyed say they have security concerns when sharing their information with the government. It is important to note that a Social Services agency does not possess the same cyber-security as the Federal Government itself. These agencies lack the robust I.T. services that other companies in the private sector have and generally lack the funds to make their systems safer. Not only are their data caches on the weaker side of protection, but in a world where everything is run on a mobile device, it would take a lie to say that securing information and payments over a long-distance internet channel will be safe and effective. Most people want secure systems that can register for social services, enroll in government insurance or health exchange, and pay for taxes.
There are Plenty of Innovations Being Made – Much of the innovation being seen today is not done by the U.S. government. Instead, third party processing companies are pouring millions of dollars into new technology, so the government does not have to. One of the prospects for businesses like Conduent is automation. This technology is not necessarily new, but it is in the industry of government payments. Using their already refined accounting software, Conduent plans to move this in the direction of automated payments for things like child support, utility bills, and taxes. The benefits of automation are instant and remove the "manual labor" aspect of these payments. For the people who want more control over their payments, investments are also being made to make processes more mobile-friendly. People's lives are already controlled on their cell phones so it is no surprise that many people would enjoy the ability to make payments at their discretion. 81% of adults in the U.S. own a smartphone. This form of technology dominates our society, which is why many other companies have adapted their business to fit on our screens and our government should be no different. Lastly, many companies plan to implement AI conversation platforms. Many businesses already utilize some form of AI to answer client questions and simply processes. This might be the exact solution to many of the issues face when making government payments. While this list does not encapsulate all leading-edge technology, it is a good start to where many companies, like Conduent and Vantiv, will end up.
Budget Cuts Pose an Issue - Many of the agencies being discussed with advancements are receiving heavy budget cuts well into the billions of dollars. This does not rule out the possibility for investments into a user-friendly interface, but it does make it less likely. 40% of surveyors make payments to things like SNAP, WIC, Child Support and Utility Payments. Last year, 68-million dollars was allocated to these programs, but under current legislation, that amount is expected to decrease greatly over the next 10-years. Government health care is also expected to see cuts around 2.7-trillion dollars by 2021. Going down the list, other agencies in the health care sphere are also going to experience tighter budgets with some cuts being in the billions and others around 500-million dollars. This is added with tighter regulation, which could result in even heavier losses. Not everything is negative, though, as many of these budget cuts are in an attempt to allocate funds elsewhere. Child Support and Labor/Workforce funding are both expected to see more funds being invested in their systems. Last year these two groups were allotted nearly 180-million dollars, but those numbers will continue to rise with each year. This does make it difficult to envision any future investment into these agencies and their solutions/software. These hopes for a more customer-focused process are not lost, though. While it is unlikely that the government would take the time and spend valuable tax dollars creating a seamless process for customers, companies like Conduent can accomplish the goal for a fraction of the cost and nearly no time at all.
Solutions to the Problem - These secondary, non-government owned, payment solutions are also user-friendly for government entities themselves. They actively manage products, integrate systems, and optimize the collection of payments and data. The security that goes into these solutions is far greater than what can be invested by these government entities especially with massive budget cuts coming in the next few years. Advancing technology for the user is important and so advancing the security, which is why each of these areas receives so much focus. Ease of use and security are the keys to making sure the solutions do what they are supposed to. It's not an easy task to set this up, especially when you are behind and chasing a growing market, which is what makes these outside companies so beneficial. Conduent has developed payment solutions for paying healthcare costs, making child support payments, and SNAP benefits with countless other solutions as well. Not only are the products ready for use but they are always looking to be improved upon. Success in business is based on adapting to the needs of customers and the market, which is exactly what companies like Conduent and Vantiv do better than the government ever could.
In business, you need to offer every option or possibility to make your customers happy. These different agencies are no different. If investments into new technology are not made, then generations of people who need these benefits may not receive them. A static business model has been proven to fail and trying to make up the ground might cost more money and time than what is available. Keeping these services secure is the next big step. If information isn't protected and money is lost, well, that may just be more expensive than an overhaul of innovations. The solution is simple, though. Provide the right device, the right systems, and these issues disappear. Innovations will be made to remain relevant and these programs will continue to thrive.