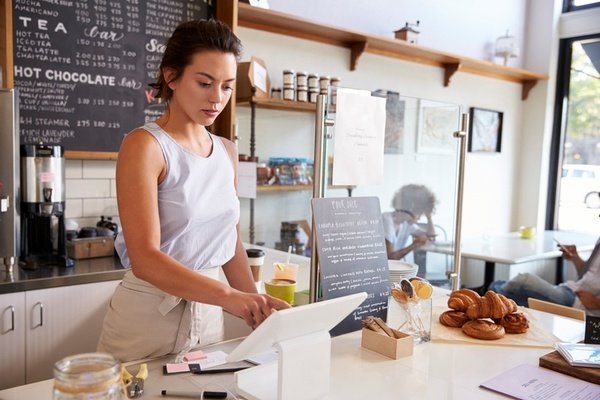 Don't Ignore Your POS Accessory Options
Great software. Ideal fraud protection. A great cashier station. All these things are important. But what about the POS accessories? While these items are often considered "afterthoughts", payment processing providers have an opportunity to win big with merchants by putting real effort into every aspect of a complete POS/back-office set up. Here are a few of the most important considerations to make in today's POS landscape.
POS Stands
With the rise of tablet-based POS systems, having a great stand for devices is becoming much more important. What's also changed for POS owners and operators are the types of stands they need and want. Retailers are no longer satisfied with a clunky piece of metal or plastic, they're requiring stands that really facilitate the best point of sale experience for employees and customers.
Flexibility: Retailers want stands that allow them to be nimble, not only when completing transactions but even when completing other business-critical tasks. Stands that allow easy detachment and reattachment are becoming the norm, and merchants almost expect them as an option as they continue to embrace our mobile landscape. Today's most sought-after POS stands also incorporate movement while the POS is attached. Slides with swivel, slide, and/or rotation abilities allow merchants to collect customer information and complete transactions more smoothly, improving their customer experience and retention all at once.
Sleekness: By now, most hardware providers have learned that bulky doesn't work and merchants prefer a clean aesthetic. When considering stand options for your merchants, make sure you're thinking about what they look like as well.
Printers
Even though technology is trying to move away from paper receipts, there is still a significant need for printers to accompany POS set ups. From restaurants that need to communicate new orders to the kitchen, to customers who just simply prefer a printed copy of their receipt, the printer can have a huge impact on the ability of a business to meet consumer needs.
Wireless: Like almost everything else, wireless capability is key in choosing printer options for your merchants. Understandably, dealing with cord lengths and communication device communication issues is not ideal. Business owners today are seeking a technology solution that allows them to maximize their space and cut down on movement. With wireless printers in various places within a store, transactions completed by mobile device are much more streamlined.
Cash Drawers
Despite the very common thought that "cash is dying", cash is still very much alive and not going away any time soon. While select business owners are moving toward "no cash" policies, many are still in need of equipment that holds their bills and coins. To ignore the cash drawer options for your merchants would be a mistake.
Space saving: Cash drawers are certainly something business owners must make room for on or below the counter, but they've come a long way over the years. Instead of the cash drawer being the focal point of the point of sale, they are now considered an optional accessory. Of course when considering cash drawers, safety is key, but space and compatibility are just as critical. Make sure the options available to your merchants are cash drawers that will maximize their space and compliment their overall POS set up.
Supplemental Devices
While having a core location for completing transactions is the standard in restaurant and retail environments, many businesses are working on limiting the need for consumer movement around their locations and the always daunting lines of a booming business. Wireless mobile devices are the answer. Tablets, wireless credit card terminals, and even iPhones are allowing business owners, employees, and consumers the convenience they desire.
Integrations: There's nothing more annoying than technology that just isn't reliable or functional. Make sure that if you're offering peripheral POS devices, your merchants and their customers can actually rely on the device to work with their system. This also means that certain functionality like placing online orders or viewing reports should also be available on a mobile device. Ensure that your merchants can easily shift between mobile and stationary seamlessly.
Portability: Take some time to test out the mobility of peripheral POS devices. While they may be small, they may not be user friendly. Consider employee and consumer preferences and input when making a decision on how to incorporate mobile POS devices.
in Industry News, Equipment, Best Practices