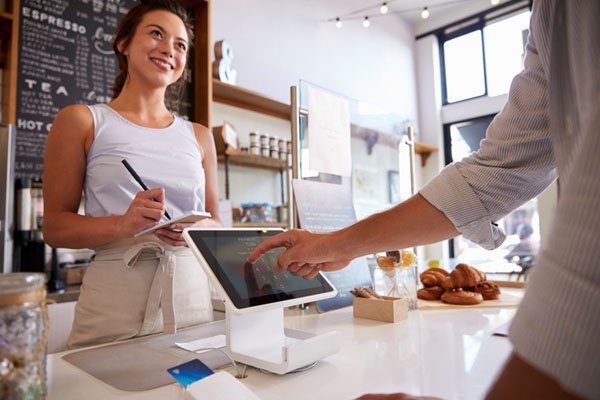 Deepen Consumer Engagement With Tablet POS
Consumers are inundated daily with marketing messages, all competing for their attention. From social media feeds, to TV commercials, billboards along the street, and store signage - so much visual clutter can result in overload. Consumers may just tune out the noise and disengage, limiting opportunities for retailer engagement.
Fortunately, today's tablet-based POS systems give retailers an ideal tool to reach consumers in a way they can't ignore: via customer-facing display screens. With customer-facing displays, retailers can provide targeted marketing at the point of sale that will truly deepen the customer's engagement, rather than drive them away. Studies show that digital advertising at the point of sale leads to a 19% increase in impulse purchases1. Tablet POS systems provide significant returns for retailers.
Customer-facing displays provide a unique point of focused attention in the retail setting. While customers may choose to ignore signage or countertop promotions, they must interact with the tablet during the checkout process. This is a crucial upsell opportunity for merchants. Tablets take the responsibility for suggestive selling from the shoulders of busy cashiers, and provide consistent, appealing messaging in a format that is familiar to consumers. It's clear that consumers appreciate e-commerce integration into the brick and mortar setting, as they spend 22% more if digital channels are involved in the retail shopping process3.
Customer-facing displays have come a long way from simple two-line LCD displays on a pole. Today's displays, typically using off-the-shelf iPads or Android tablets, can do anything an iPad can do - from running multimedia shows, to offering specific daypart promotions, discounts and instant coupons. Promotions can be customized for virtually any setting, from the c-store countertop to restaurant tabletop. In fact, tablet based POS has proven to increase tipping by 38%2, a trend your restaurants' servers will appreciate.
Tablet-based POS systems do much more than increase sales and tips. On the back end, they also multi-task to help your merchants manage their businesses effectively. Tablet POS systems are designed with mass market, standards-based technology. This makes them easy to update and enhance, as new features become available. Merchants can easily integrate business management apps such as inventory management, sales reporting, even staffing levels and scheduling. Tablet POS systems work with standard peripherals and dongles, saving merchants money and hassle.
POS tablet systems are a key tool in moving the customer from a merely transactional to a more enjoyable, rewarding shopping experience. George Burciaga of Elevate Digital notes, "Customers expect a personalized experience that surprises and delights them. Additionally, consumers are trending more toward a self-service experience4." As a PSP, you are in a prime position to guide your merchants to the right tablet POS system for their business model. By helping your retailers understand and implement the extensive promotional and administrative tools these systems offer, you'll help your customers reach new levels of profitability and growth.
Sources
1 - "The Benefits of Point of Sale Advertising." Media Caddy. Heather Dundon. 7-13-14. http://mediacaddy.com/the-benefits-of-point-of-sale-advertising/
2- "New Technology Creates Tipping Dilemma." Press Democrat. Suzie Rodriguez. 4-13-15. http://www.pressdemocrat.com/lifestyle/3602865-181/tipping-just-got-easier-with?artslide=0
3 - "Retail's Main Event: Brick and Mortar vs. Online." Ray Hartjen. 12-18-16. Retail Next. http://retailnext.net/en/blog/brick-and-mortar-vs-online-retail/
4 - "Interactive Customer Experience Has to Surprise and Delight." Kiosk Marketplace. 6-25-15. https://www.kioskmarketplace.com/articles/interactive-customer-experience-technology-has-to-surprise-and-delight/