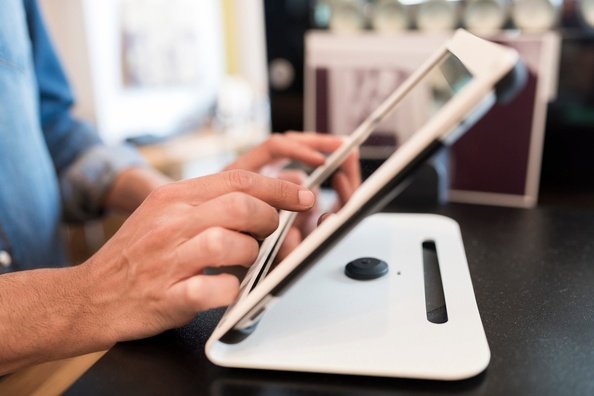 Tablet Point-of-Sale: The Time is Now
We live in a world of "right now". We also live in a world of rapidly evolving mobile technology that makes "right now" a reality. With the average person using their smartphone about one-third of the time they are awake, it's as though humans have the world literally right at their fingertips, all the time. A study by Great Clips reported that 52% of consumers will simply leave if their wait at a business is longer than 10 minutes1. While our increasingly "mobile" society has made consumers more impatient and always eager for more of everything, it's also allowed merchants the opportunity to take their businesses beyond the classic stationary business model, with the use of mobile points of interaction.
In the early 2000s, developers and engineers introduced early PDA accessories and software that allowed the processing of mobile payments. Since these early days, the mobile POS has evolved from simplistic devices strictly for payment processing to the fully customizable devices they are today, making them an option for more merchants than ever. With increasing adoption, continuous development, and the mobile POS terminal market size forecasted to reach $48.77 billion by 2023, 2017 is a great time to take advantage of mPOS for your own merchants2.
Hardware Options for mPOS
The needs of every business are different, even just within the retail setting. While having the benefits of a mobile POS may be a shared desire, there is a good chance that one POS solution will not be the best fit for every one of your merchants. Luckily, there are plenty of options for providing the hardware your merchants want and need.
Tablets – Of course, the staple for most businesses is a tablet that serves as the basis of the POS system. While the standard iPad or Android tablet can be easily converted into a mobile point of interaction with the use of dongle accessories, like devices from Square, today's technology also offers tablets designed specifically for business purposes.
Tablets are ideal for most businesses today, small and large, because of their touchscreen abilities, easy mobility, and the small amount of space they occupy even when they are stationary. The tablets designed specifically for retail, restaurants, and more pack a lot of power and are capable of handling much more than just payments.
Dongles – Dongles are a great solution for easily turning a standard mobile device into a payment processing device. With just a simple app download and dongle plug in, even someone's personal smartphone can become a mobile point of sale used for processing payments.
Dongles are very cost efficient and have a very small learning curve. For the very small business owner, especially one that's operating outside of a standard business building, a dongle is a great option.
Smartphones/iPods – Some payment processors have even had success in selling their merchants smartphones or iPods that are optimized for interacting with consumers in a retail or restaurant setting and accepting payments. The wireless capabilities and very small size of these devices make them ideal for completing transactions and engaging with consumers without being tied to any specific locations.
The smaller the mPOS, the easier it is for an employee to naturally interact and carry out transactions without relocating the customer. With today's technology, business employees can even search inventory or place ecommerce orders with customized device software standing right where they greeted the consumer. This type of equipment is often used to supplement other POS devices and help improve the flow of business.
Address Challenges Early
No matter what devices you choose to distribute, there will be some natural challenges that occur and getting ahead of the potential roadblocks is every business' best bet. Once you've invested in new mobile POS devices, you'll have to consider the following obstacles to making sure your merchants are getting the most out of them:
New software downloads
New deployment processes
New packaging
New support protocol
New merchant onboarding and training
New security measures
Bringing any new technology to market can bring about unexpected challenges, but preparation will always give your business the best chance at the ideal execution. Working with a partner on the parts of your operations that may be more difficult to do in-house will give you the opportunity to focus on developing solutions that are most beneficial to the businesses you serve.
Embrace Customization
Finding mobile POS hardware kits that will be suitable for a variety of businesses isn't nearly as difficult as developing a one-size-fits-all POS software solution. In today's payments landscape, "business owners are really seeking to streamline every aspect of their business without sacrificing high quality hardware, powerful business intelligence reporting, accessibility of the cloud and the best third party integrations…"3. The businesses that can ensure their merchants have the features they need with their custom details built in are positioned to offer the most to all the businesses they serve.
The mobile POS is a great opportunity to rid your business of all the "old school" ways of thinking about consumer payment needs. Today's experiences in retail, restaurant, and event settings include much more than simply paying for a product in-hand, and the technology merchants are looking for must accommodate that. Take the time to develop a true point of interaction that will allow your merchants to better leverage their ability to upsell, collect more customer data, and engage the consumer with a loyalty program.
Take Advantage of Integration
Merchants don't want to learn how to operate many different systems and devices when they can complete many of their day-to-day tasks on one easy to use mobile device. By integrating some of the key functions for operating a business into the POS device, you give merchants the opportunity to continuously improve in many areas. The more software and functionality you build into the POS ahead of time, the less legwork there is to be done as your merchant base continues to grow and the size of the businesses you serve grow as well.
Fully integrated point of sale systems can also easily be optimized for several different kinds of businesses from clothing retail to deli restaurants, allowing payment service providers the opportunity to continue expanding their portfolios.
Get Ahead of the Curve
The mobile POS wave is already here and catching on now is a great idea. With 70% of retailers already considering tablet POS systems, PSPs are better off mastering their entry into the market now than waiting for "the other guys" to work out the kinks. As security measures and new developments continue changing for the mPOS, the ideal processes and solutions will continue changing as well.
https://globenewswire.com/news-release/2016/06/07/846596/0/en/mPOS-Mobile-POS-Terminals-Market-size-to-hit-48-billion-by-2023-Global-Market-Insights-Inc.html