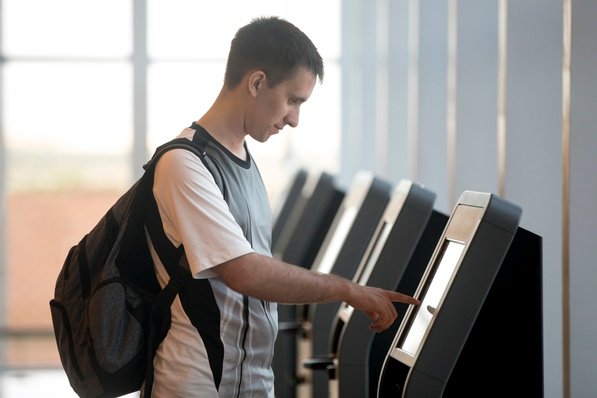 Unattended Retail: New Markets, New Opportunities
Payment innovations and consumer trends are changing every aspect of retail sales. This effect is especially evident in the rapidly growing market of unattended retail. No longer the domain of simple vending machines selling candy bars and soda, unattended retail has developed into a high-growth, multi-layered and profitable segment of the payments industry. Let's take a look at this market, and see how you and your retailers may take advantage of new revenue opportunities.
New Markets
When we think of unattended retail, we tend to picture small-change transactions at the break room vending machine. However, this notion is severely outdated. Unattended kiosks accepting electronic payments serve many different markets, with new startups being rolled out every day. Unattended kiosks can be a profitable choice for many different settings. For commercial laundromats, a cashless payment option for machines and laundry supplies makes the process more convenient for customers. In city parking meters and garages, there's no need to scrounge up quarters from the floorboards of the car. Car washes are finding it profitable to sell supplies such as window cleaners, air fresheners and paper towels. Vending machines are moving beyond food and drink, to selling nonconsumables such as earbuds, power cords and school supplies. Self-serve bill payment kiosks have turned out to be a great traffic builder for retailers. In fact, unattended markets are like the Wild West - pretty much anywhere a self-serve option could be feasible, it's probably being developed (even places we would never consider, such as marijuana vending machines - true story.)
While food service is not the only outlet for unattended markets, it definitely deserves a moment of special focus. With 17 billion snacks and beverage sold every year in the US1, food service is a significant revenue source for unattended retail. By evolving with consumer trends, food service is experiencing a complete transformation in both product and profitability. Studies show that consumers place a high priority on wellness, and food service companies have paid attention. Companies have rolled out micro markets, the next-generation of vending machines. According to NAMA, over 9,000 micro markets are in operation today, and 30,000 more are expected to open in the next 5 years.2 Micro markets are highly customizable, with touch screens, remote data access, and carefully calibrated delivery systems (read: fancy robotic arms). They take all manner of payments, from cash to EMV card to contactless. Micro markets are focused on providing better-for-you snacks, and even grocery staples such as milk and eggs. From thousands of Pepsico's Hello Goodness machines rolled out just this year, to Avanti's fully scalable micro markets, there are impressive unattended options to meet nearly every setting.
Unattended food service has also realized the benefits of group association. The National Automatic Merchandising Association provides FitPick, a set of guidelines certifying healthy nutritional content for hundreds of vending items. By providing FitPick-certified foods and displaying the trusted FitPick logo, unattended retailers can advertise healthy product offerings, and enhance their own image as a valuable community resource. Not only is FitPick useful for consumers on the street, providing the FitPick certification has built market share for school business. Most schools operate under a directive to provide snacks that meet certain nutritional profiles. FitPick makes this easy. It's a win for the school, and a win for the merchant. Unattended retail providers in other market segments would do well to look to the example of food service, and consider applying the benefits of group standards and collaboration to their own products.
New Settings
While traditional vending sites will always remain profitable for unattended retail, many untapped locations are waiting to be found. Urge your merchants to think of ways to reach consumers in new settings. University dorms can offer OTC medicines, toiletries and school supplies. Airport kiosks can provide all sorts of retail items to a captive and bored audience. Community residential spaces, such as condominiums, apartments, and senior living are a profitable spot for micro markets selling grocery staples. A step up from micro markets, self-serve cafeterias are an option for corporate and government settings. The opportunities are endless.
Retailers can also take advantage of unattended kiosks to build revenue within their four walls. Some retailers may consider providing services such as turnkey bill payment kiosks.
For years, grocery stores have offered services such as bill pay as a way to drive foot traffic to the store. However, these services have typically been time consuming and labor intensive. Self-service bill pay kiosks eliminate these drawbacks. One provider of bill pay kiosks reported that 81% of survey respondents also made store purchases when using the bill pay kiosk, resulting in $25 of additional revenue per customer visit.3 Bill pay kiosks are an easy way for your retailers to provide more services and increase store traffic, without increasing the workload on their employees.
Technology Ties
Integration with technology is bringing a new edge to unattended retail, for both consumers and providers. Nowadays, there's no need for a service provider to drive to a vending machine and open it up to determine what needs to be replaced. With smart machines, inventory can be managed remotely. Data analytics helps providers meet local buying trends. What's more, unattended equipment is more reliable than ever, with remote monitoring services and internet connectivity to report problems.
With today's payment technology, we are seeing a convergence of mobile payments with vending. On newer unattended retail units, consumers can choose among a full range of payment methods, from cash to card to contactless. Offering a variety of payment methods allows merchants to capture more purchases. Studies show that vending machines advertising Apple Pay increased overall revenue by 22 percent.6
Technology also allows providers to communicate with consumers - yes, even in vending, loyalty pays. Loyalty programs and mobile payments are beneficial in the unattended retail space, as well as traditional retail. Avanti, a leading provider of unattended food service, offers a digital loyalty program, including mobile payments for consumers. My Coke Rewards is a brand-specific rewards program, offering points across a wide variety of Coke products. These points can be redeemed in an online catalog, or at My Coke Rewards vending machines. As the unattended retail market continues to grow, we can expect loyalty options to expand as well.
Meeting Trends: the Key to Success
Today's physical and electronic technology enables us to create devices we only dreamed of ten years ago. But beyond that, the unattended retail market is experiencing major growth because it meets consumer shopping priorities. Consumers value convenience and choices, two characteristics that unattended retail offers in spades. A consumer shopping study by Synchrony Financial noted, "When customers were asked to rank which of 27 retail experiences mattered most, certain benefits rose to the top. The top elements chosen were of a practical nature - things that eliminated stress, gave shoppers more control and made their shopping experience simpler and easier."5 Unattended retail provides convenient purchasing, product choices that are highly specific for that particular location, and a full range of payment options.
Unattended retail is estimated to reach $275 billion globally by 2020.4 There are countless opportunities for today's merchants to tap into this growing market. Your retailers might consider offering unattended retail products, partnering with a kiosk provider to bring additional services into their existing stores, or simply learning from the success stories of unattended retail pioneers to improve their own businesses. Encourage your customers to look outside their four walls for ways to capture this revenue stream for themselves.
Sources
"Fit Pick Infographic. FitPick. Accessed Oct 24, 2016.

http://www.fitpick.org/nwc/wp-content/uploads/FitPick-Infographic.pdf
"NAMA FAST FACTS." Fitpick. Accessed Oct. 24, 2016.

http://www.fitpick.org/nwc/nama-fast-facts/
"Benefits of Bill Payment Kiosks for Retailers." Kiosk Marketplace. 2010. Accessed Oct 26, 2016.
"

The Retail Automation Market to see 16.7% CAGR to 2020." PRN Newswire. Dec. 19, 2014.

http://www.prnewswire.com/news-releases/the-retail-automation-market-to-see-167-cagr-to-2020-detailed-segmentation-by-product-type-and-industry-vertical-286375191.html
"The Retail Customer Experience." Synchrony Financial. September 2015.

https://www.synchronyfinancial.com/SynchronyFinancialCustomerExperienceWhitePaperSept2015.pdf
"Apple Pay Fuels Massive Sales for Vending Machines." NY Post. James Covert. June 16, 2016.

http://nypost.com/2016/06/16/apple-pay-fuels-massive-sales-for-vending-machines/
in Industry News, Technology, Best Practices