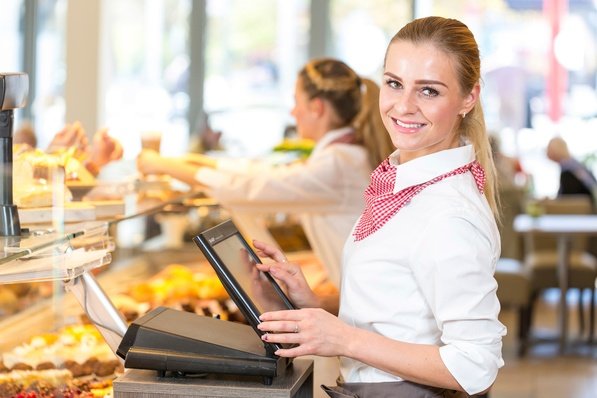 The exchange of currency has been changing continuously and rapidly since it first began, and in today's technological world, it's evolving at an amazing rate. As touch screens and even wearable communication devices become "the norm", the standard POS has morphed into a multi-faceted business-building, communication, and organization tool. Owners of businesses around the world are embracing these waves of change and capitalizing on the newest technology and capabilities. As payment service providers continue to encourage the adoption of the latest in the industry, it's important to understand where the industry originated, where it's poised to go, and why. Let's take a look back at the history of the POS system and the ways the POS estate has been managed thus far.
The Early Stages
It's hard to imagine a storefront operating without something as basic as a calculator or cash register, but that's how it was for countless years. To consider the beginnings of modern retail, we have to look back more than a hundred years. The mass production of the first calculating machine, the Arithmometer, gave way for the arrival of the first cash register in 18831. Cash registers revolutionized the way that businesses were able to accept payments and monitor their cash flow. Business owners and operators traded their books, pencils, and handshakes for machines that did transaction math for them and stored their money.
The next huge wave of change happened in the 1970s, when IBM introduced their early store systems1. Although the original IBM systems were basically just "dummy" terminals backed by a mainframe, they changed the structure of the retail environment completely2. By 1974, the first microprocessor-controlled cash register was put into use at McDonald's Restaurants, a change that altered restaurant operations for good, and paved the way for more computer-based, integrated developments1. Early computer software allowed the collection and storage of goods and services sold, as well as their prices, but did not yet facilitate electronic payments. During this time period, the actual sale was being captured electronically, but it was not until 1979 that credit card payments could be completed without a manual process. That year, Visa introduced the very first electronic credit card terminal, just as credit card usage was taking off3.
In the very early days of POS and payments "technology", the devices businesses relied on to complete a transaction were big and bulky. Luckily, they weren't very complex. Businesses made investments in POS systems and relied on the skilled technicians in the field to repair the machines when needed. Original POS systems were implemented before the average consumer was even able to own a personal computer. This meant that most owners and employees weren't able to do much troubleshooting on their own. Point of sale downtime during this period could become a huge detriment to business, when retailers had to resort to manual imprinters and phone authorizations.
Welcome to the World Wide Web
Over the years, big business kept booming and single location businesses often became chains. The world was opening up, and to keep up, businesses needed to be able to track more inventory, complete more transactions, and communicate from location to location. Computer based POS systems and the Internet made this possible. These developments, coupled with new barcode scanners, remote printers, and other accessories, also upped the ante for the companies that were manufacturing, programming, deploying, and servicing the equipment.
With the ramping up of credit card payments, the enhancements of the equipment required to process them, and the integration of additional functions like custom order entry, the POS system has naturally evolved into a much more complex setup. A single POS terminal at the cash register, just for completing a sale, is no longer enough.Now, merchants are enjoying the convenience of multi-use devices that not only process electronic payments, but also have the ability to store consumer data and communicate directly with the consumer's own devices. Consumers have become accustomed to the convenience and simplicity of new, faster ways to make purchases, and retailers appreciate devices that make their lives easier. However, this complexity has broughtnew challenges for the maintenance of a company's POS estate.
Now and Later
With the growing variety of POS equipment and capabilities, the support needed to keep devices operating is much different than just a few years ago. While devices are slimming down, the software is beefing up. While hardware repair and replacement are still occasionally necessary, many payment service providers are utilizing solutions that allow remote troubleshooting and resolution for the POS software. To avoid potential headaches for merchants, PSPs and their partners are working to provide even more convenience, with easy to use self-service support resources and automatic system updates. Of course, there will always be a need for a personal touch, and today's highly trained merchant help desks are just a phone call away. At times, help desks will still find that hardware needs to be replaced. Secure encryption methods and intricate programming have made the processes for deploying such equipment even more involved. Today, merchants have the ability to receive a fully operational POS system with the latest in payments, loyalty, and other business software that is already loaded with their store specifications. It's important to choose a trusted hardware support provider like CDE that can manage inventory, encrypt and download terminals, and provide quick shipping to handle these urgent needs.
Truly, the payments industry has come a long way from the days before credit cards were even used. And with today's consumers making 51% of their purchases online, there's no telling how much farther it will go. Our ever-changing interconnected world is allowing retailers to learn more about their customers, and the customers are expecting highly convenient and customized experiences wherever they go. With the amount of opportunity in the POS market, the expected $113.27 billion revenue share by 2024 for the industry is no surprise, but certainly encouraging.
http://revelsystems.com/blog/2015/08/25/looking-back-on-the-history-of-pos-systems/