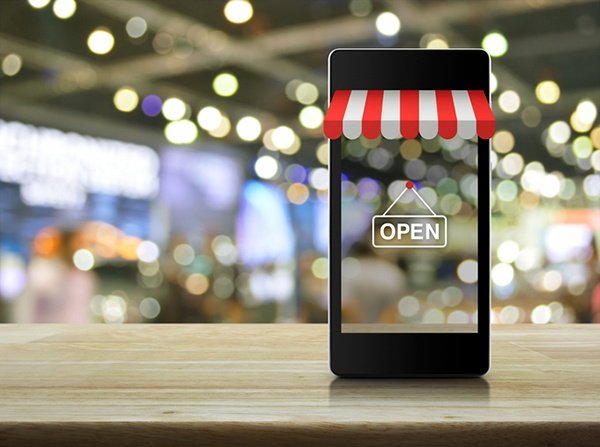 Technology, Incentives Help Retail Stores Challenge eCommerce Shoppers
In recent years, most Americans can't help but take note of the many retail stores and chains closing their doors. Every month we hear of store closings and bankruptcies such as Macy's, Kmart, Payless Shoe Store, RadioShack, Christian Bookstores and others.
As more people have embraced online shopping, brick-and-mortar stores have struggled to keep up with lower prices and growing sales with online giants like Amazon and eBay. According to DigitalCommerce360.com, U.S. retail sales shot up by 15.6% in 2016 and exceeded $341 billion. Shoppers are turning to their smartphones, tablets and home computers instead of visiting their local malls. Thus, many retailers have been compelled to make changes and look to technology to be more competitive online, with shopping apps and location-based technology.
Here are a few of the ways traditional retailers are using innovation to be more competitive with eCommerce:
Digital Storefront Improvements
For starters, while many brick-and-mortar stores are focused on maintaining and expanding their physical locations, they often neglect their online presence. Some chains have recognized that they must improve their digital storefronts with better websites with easier navigation, more inviting imagery and dynamic content.
Retailers like Kohl's and Wal-Mart, have added a "live chat" feature to their websites to connect with shoppers while they browse. Retail websites with a live chat feature convey a message of 24-7 availability and have proven to reduce the number of incoming customer service calls. According to Kissmetics.com, polled shoppers said they were 62% more likely to make a purchase and return to a website thanks to live chat assistance.
Geo-Tagging Personalization
Personalization is the key! Some retailers emphasize the personal touch of face-to-face service in store, versus buying items online sight unseen from overseas. Moreover, some retailers have turned to geo-tagging technology to send targeted offers to shoppers as they enter their stores. Through this technology, retailers have created a digital fence around their location. Geo-tagging allows shoppers to receive personalized promotions and discounts while in the store via email or the retailer's app.
Use of Analytics
Some companies also use Wi-Fi technology to create a more personalized experience for shoppers. Wi-Fi technology allows retailers to tally data and analytics on shoppers' movement inside the store, the amount of time shoppers spend in a store, and purchase preferences.
By collecting, recording and reviewing customer and purchase data, stores can better track consumer trends and product preferences specific to each store location. This data can directly impact product placement and the product layout of a store. This information also helps retailers know which products to stock up on and which ones may be underperforming.
Smartphone Connection
Shopping apps for smartphones, such as Target's Cartwheel program, help provide a more customized experience for in store shoppers. These apps track past purchases, suggest products to buy and send alerts about sale products.
Similarly, beacon technology allows big retailers, such as Neiman Marcus, to transmit radio signals through a smartphone's Bluetooth. This technology is used mostly to target shoppers in proximity to a specific department or floor in a store. This broadcast-like technology can send shoppers real-time promotions and discount notifications. For instance, when shoppers browse the shoe department, they can immediately look at their phone to learn about special offers.
In comparison, online shopping lacks personalized recommendations, interaction and direct feedback from trained employees in the stores. Mobile apps and beacon technology are helping to take in-store customer service to new heights to better compete with online shopping.
In-Store Incentives
Retailers are finding more reasons for shoppers to come inside their doors. Stores like Nordstrom are using touchscreen technology in its dressing rooms. Smart screens allow shoppers to read up on product reviews and even view related Instagram images. Similarly, Sephora's new store layouts feature touchscreens near the door that provide service menus and a list of products on sale.
Many companies have also dialed up in-store efforts by using QR codes printed on products. These QR codes can be scanned with smartphone apps to connect to the company's website, social media pages or even see product demos. More importantly, people scanning QR codes in store also provide customer information that retailers can use to send them promotions.
Increased Social Media
More brands have made efforts to grow their following on social media in effort to connect with more customers. Stores like Carter's and Bath and Body Works have beefed up their presence on Facebook, Twitter, Instagram and other platforms to promote in-store promotions. These retailers are posting content more frequently and encouraging shoppers to share content with their friends.
All of these technology trends are helping to breathe life back into brick-and-mortar retailers. Innovative tech solutions have helped stores build personalization and learn their shoppers' needs and preferences in order to optimize each individual customer's experience in store. Social media and mobile promotions have also given retailers more ways to reach out and connect with shoppers and potential customers.
While these technologies likely won't stop the steady growth of online shopping, they sure give shoppers more reasons to come inside their stores. Each technology helps to create a dynamic and enhanced store visit.