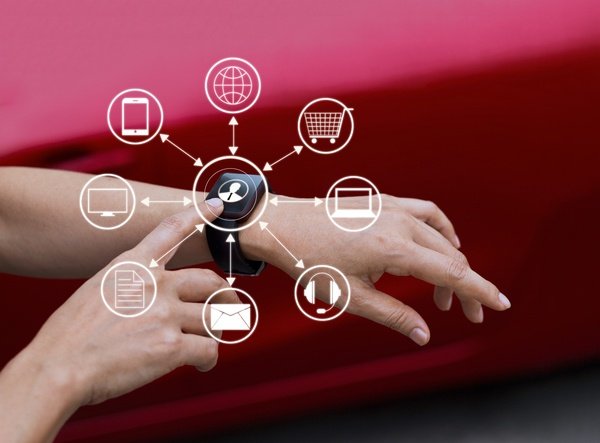 Wearables: Fashion That Pays
Today's consumers are all about convenience. To meet this demand, mobile technology has continued to work its way into almost everything that we do in our everyday lives, including making payments. Fintech professionals are working every day to find ways to get rid of the classic wallet and make paying for goods and services easier than ever before. Inventors realize that the best way to make payments easier is to incorporate the technology into items we already have. This school of thought brought about "wearables", payment technology devices you could wear on your wrist, finger, neck, and more.
What are they?
Wearable technology is exactly what it sounds like, technology you can wear. There are bracelets and watches that measure vitals and movement, allow smartphone functionality, and wirelessly connect to other devices. Now, with near-field communication (NFC), some of these same devices can store payment information and allow consumers to make payments simply by tapping or waving the device. This technology is allowing consumers to leave their house for a jog and still make their stop at the local coffee shop, without bringing anything they might lose.
Outlook
Wearable payment technology has a very promising outlook, with a projected $100 billion in wearable payments being made by 2018. MasterCard's senior vice president, KiKi Del Valle, says that "there's a natural synergy between wearables and contactless payments". People continue to embrace all the ways they can access and transfer information on mobile devices, and NFC payments with these connected devices is just another step in making consumer lives easier. 59% of global banking and insurance executives predict that wearables will become common transaction methods in at least 5 years.
Several companies have already launched wearable products with payment capabilities, and adoption is growing. Consumers can now use smart watches and mobile wallets by Apple and Samsung to make payments with their saved credit, debit, and loyalty cards at any business with the right payment terminals.
While Apple, Samsung, and Google have an advantage with existing proprietary mobile payment apps built into smartphones, companies who specialize in other areas are taking their wearable payment rollout slow. The Jawbone UP4 fitness tracker only allows payments with American Express at participating retailers, and the Microsoft Band 2 only allows purchases at Starbucks. Though the technology is in its early days, innovators surely aren't slowing up. Visa tested their payment ring at the 2016 Summer Olympics and Scottish company, Lyle & Scott has already integrated wearable payment technology into a jacket sleeve.
Challenges
There are still a few challenges for wearable payments devices to overcome on the path to mainstream adoption:
Pricing – With products like the Apple Watch starting at a retail price of $269, wearables aren't cheap. While early adopters are willing to pay for some of the pricier technology on the market, the average consumers aren't quite ready to shell out extra money for the added convenience.
Design – Because these devices are meant to be worn regularly, companies are battling with the balance between design and functionality. To accommodate various functions, today's wearables are bulky, and in most cases and not a fashion statement many consumers want to make.
Adapting – Because wearable devices still require some interaction with a device and some set up by the consumer, they still create some friction within the payment process. Developers have some more work to do in making the wearable technology as simplistic as possible, and financial players must connect to make more universal wearable technology possible.
Practicality – While a pair of glasses or a glove that can be used to make payments sound cool, they haven't been made practical. Wearable technology needs to be integrated into items that make sense for consumers. While chips in the soles of shoes sounds like a great idea, the capability just isn't quite there yet.
Security
While the tokenization of NFC payments makes them secure, wearable payments still have vulnerability to fraud. Symantec found that some apps used in a wearable payment transaction contact different domains, making them particularly susceptible to data interception. Wearable payment devices and software, while in their early stages of development are best used in secure environments with technology like P2PE, that can protect the user credentials until it reaches a secure decrypting location.
Although companies are working to make wearable technology as secure as possible, consumers will still have to be convinced. While some people trust the intimacy of a wearable device, others are weary of the new technology due to previous technical or acceptance issues.
We've come a long way from watching spy movies and merely imagining a day when we could make phone calls with a watch. Technology still has plenty more road to travel. Although wearable payments are in their infancy, adoption and development are growing together and our increasingly connected world is slowly but surely making tangible currency a thing of the past. Soon we'll likely be able to pay for our goods and services without any point of sale interaction, like Amazon's pilot store, Amazon Go. For now, payment processing providers and their merchants should continue to embrace innovation at the POS and gear up for the days when a coffee cup can transmit payment.