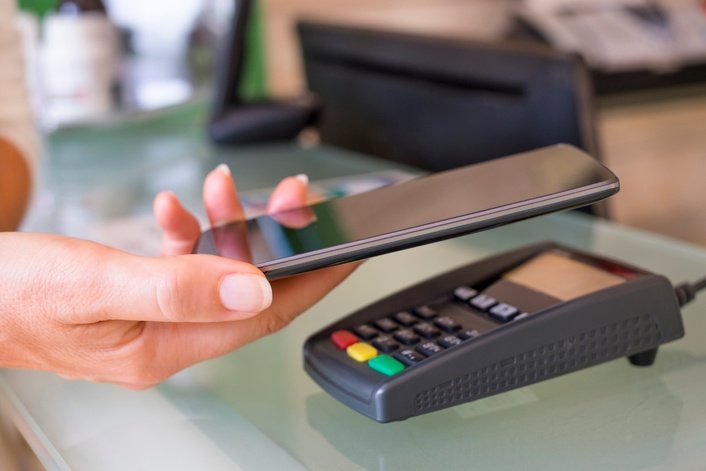 NFC Payments Are Heating Up: Are Your Merchants Ready?
The mobile payments industry in the US is evolving at a fantastic rate. Contactless payments at the point of sale, using technology such as NFC, are a fast-growing segment of this industry. By 2017, contactless payment transactions will reach $61.75 billion, with 50.2 million users. These revenues have an increase of 33.8% over 2016 rates, with over 128% more users. (7) Contactless payments are set to revolutionize the point of sale, and it's time to make sure your merchants are ready to meet the demand.
Why Now?
As we all know, despite all the hype, contactless payments haven't amounted to much in the US. It seems like we still take out our cards to swipe transactions (or grudgingly insert them into chip readers.) So what's different now? The short answer is: everything.
Several essential factors have converged to make contactless payments ready for large-scale adoption. The EMV shift is supplying a majority of merchants with NFC-enabled equipment. Payment applications are becoming creative with value-added partnerships, and stepping up their marketing game. Consumers are growing increasingly reliant on, and comfortable with, smartphones for mobile payments. With these factors in place, NFC is poised to become a preferred payment method at the point of sale.
ABCs of Contactless Payments
Contactless payments are part of the natural evolution of POS payment methods. Thinking back, card payments can be divided into a few distinct eras. Card payment 1.0 was the mag stripe. Card payment 2.0 was the chip reader (the mechanics are a little different, but still recognizably a card payment.) Card payment 3.0 is an entirely different animal: contactless payments. It's still a card transaction, but we've done away with the need for the physical card altogether. (For a brief interlude, there were attempts to introduce the contactless payment card to the US market, but these attempts were met with a blank stare.)
Turns out, there is a much better way to transfer payment data than the plastic card, and that's taking advantage of something consumers carry with them everyday: the smartphone. Using an app called a mobile wallet, consumers can securely store credit and debit card information for payment. There's no need to pull out a physical card at the point of sale. In contactless payments, dynamically encrypted data is communicated straight from the consumer's smartphone to the merchant's POS device. From there, the transaction is handled according to secure EMV protocols. Put simply, NFC payments are an efficient and secure means of getting consumer payment data to the POS device.
How NFC Works
NFC (near field communication) is the most popular form of short-range wireless communication (other options include Bluetooth and RFID.) In fact, NFC is a branch of RFID technology, differing from the larger RFID field in its communications range. NFC can only be accomplished very "near," within just a couple inches of distance. Just like RFID, NFC communicates on a set radio frequency. Because of its short range, it is especially well suited for secure transactions. (5)
At the point of sale, NFC operates via RFID-type readers - one embedded in the payment terminal and the other embedded in the consumer's smartphone or tablet. In simplest terms, the payment terminal maintains an active electromagnetic charge. When a consumer holds a smartphone up close to an NFC terminal, this charge activates the smartphone's NFC reader, starting up the transaction. Data can then be transferred via radio signal from the phone to the payment terminal. It's important to recognize the security of this process, as data is encrypted via EMV-approved tokenization. (6)
It is fairly easy for manufacturers to embed NFC technology such as tags and readers into POS terminals, payment cards, ID badges, advertising displays - the options are endless. This versatility give NFC the edge over other forms of contactless communication in the point of sale market as a whole.
Why is NFC ideal?
While there are other forms of contactless payment out there, NFC technology is the clear winner at the point of sale. With NFC payments, the needs of merchants and consumers line up exactly. The benefits can be summed up in three easy words: security, speed and affordability.
Security: NFC technology is incredibly secure, physically and electronically. Physically, as a short-range radio frequency, NFC is highly secure. Electronically, data is encrypted via tokenization, adhering to PCI and EMV standards.
Speed: Compared to the typical 10 second transaction time for chip-reader transactions (8), NFC is blindingly fast, averaging 2-5 seconds per transaction. For a consumer at the point of sale, every additional second spent waiting becomes exponentially aggravating. NFC speed is a welcome relief.
Affordability: There are no additional interchange fees to process NFC transactions. Transactions made through Apple Pay, Samsung Pay and Android Pay are processed as card present (1) (2) (3). Thus, transaction cost is not a barrier for merchants or consumers.
Role of the Mobile Wallet
Mobile wallets are the key element that allow NFC transactions to happen. Mobile wallets are payment apps, which are downloaded onto a smartphone. They serve as links to consumer payment accounts (as well as store loyalty programs, incentive programs, and more.) To set up a mobile wallet, the consumer simply loads credit, debit or other payment information into the app. Account data is then tokenized, meaning that the actual account number is not stored in the consumer's mobile wallet, only a dynamic token. In addition, to authorize a transaction, the consumer must enter a passcode, such as a thumbprint or 4-digit code. Thus, if a smartphone is stolen, there's no need to worry about thieves hacking account numbers from a mobile wallet, or going on a retail shopping spree.
Right now, the US mobile wallet market is dominated by three major payment services: Apple Pay, Android Pay, and Samsung Pay. While each has its own benefits and quirks, overall they provide a convenient, secure and value-added service for consumers. As of June 2016, 25% of consumers with compatible smartphones have enrolled in a mobile wallet program (4). This rate of enrollment will increase as consumers upgrade their smartphones over time to devices that support mobile wallets, and as consumer familiarity with mobile payments increases.
NFC and Your Merchants
While NFC is an ideal payment technology for our increasingly interconnected world, there are still some barriers to its use. In this article series, we'll discuss those challenges in depth, as well as their solutions. We'll take an in-depth look at the enormous market opportunity mobile payments bring to the point of sale. The POS market is finally ready for the mobile payment revolution. Let's make sure your merchants are too.
Footnotes:
1. "About Apple Pay for Merchants." Apple, accessed Sept. 13, 2016, https://support.apple.com/en-us/HT204274
2. "Introduction to Samsung Pay." Card Fellow, Ellen Cunningham, accessed Sept. 14, 2016 https://www.cardfellow.com/introduction-to-samsung-pay/
3. "Transaction Fees." Google, accessed Sept. 14, 2016, https://support.google.com/androidpay/merchant/answer/6288971?hl=en
4. "Still a Long Way from an Apple (pay) a Day." First Annapolis, Aug. 30, 2016, http://www.firstannapolis.com/news/still-a-long-way-from-an-apple-pay-a-day
5. "RFID vs NFC." RFID Insider, James Thrasher, Oct. 11, 2013, http://blog.atlasrfidstore.com/rfid-vs-nfc
6. "NFC Tokeniztion." Dummies. Robert Sabella Accessed September 1, 2016, http://www.dummies.com/consumer-electronics/nfc-tokenization/
7. "Mobile Payments Will Triple in the US in 2016." eMarketer. Oct 26, 2015. http://www.emarketer.com/Article/Mobile-Payments-Will-Triple-US-2016/1013147
8. "One in Five Consumers Say Paying With Chip Cards…" Harbortouch, Accessed Sept. 9, 2016, http://www.harbortouch.com/blog/one-in-five-consumers-say-paying-with-chip-enabled-credit-cards-takes-too-long/
in Industry News, Technology, Best Practices