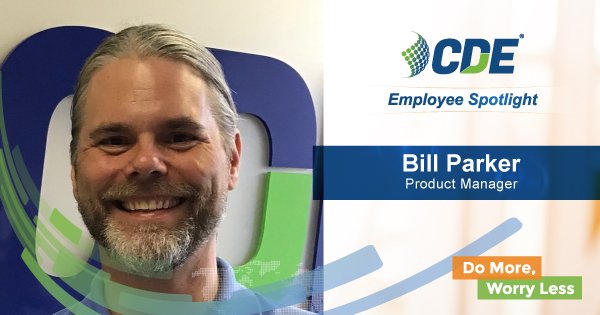 Employee Spotlight: Bill Parker
Bill Parker is one of the newer additions to the CDE team and he brought along with him plenty of knowledge and a great spirit! As our new Product Manager, Bill ensures that CDE is equipped with all the right tools and processes to deliver our partners' solutions to merchants timely and accurately, without disrupting any other areas of the business. Bill also plays a key role in conducting our regular internal PCI audits to guarantee our ability to deliver the most secure solutions to merchants. Bill's role is key to CDE being able to deliver a variety of the latest and most secure POS equipment solutions to merchants all over the country, so his work is not taken lightly and we're all grateful to have him on board.
I sat down with Bill to get the inside scoop on his background and life outside of CDE. Here's what I found out:
Bill's background: Bill graduated from college with a Communications and Media degree and began working at a company called Digital, as a field technician dispatcher. Digital was later acquired by HP and Bill continued working for the business until he joined CompuCom, 17 years later. In 2012, Bill left CompuCom to become a Lead Technical Support Engineer at TASQ. In 2014, Bill joined Ingenico as a Sales Engineer which allowed him to gain even more in-field knowledge of payment device usage and integration.
Bill's thoughts on joining CDE: Bill says that when he heard about the opening at CDE, he was excited to apply because he was sure that he could bring with him a great deal of expertise that we could use, and he wanted to be a part of the growth that was happening in the business.
Bill's favorite part about CDE: Like most employees, Bill said that the people are his favorite part of CDE. So I made him tell me what he meant. Bill explained that he's glad that everyone at the company has been very welcoming to him and for the most part, everyone is very good natured around the building.
Bill's life outside of CDE: Bill is a musician and a family man. When he isn't spending quality time with his two children (very soon to be three) and wife, he's writing songs or performing with one of his two bands! Bill grew up in East Cobb, and now lives in Woodstock, so he says having CDE so close to home has been a huge positive in his life.
in Employee Spotlight, CDE News