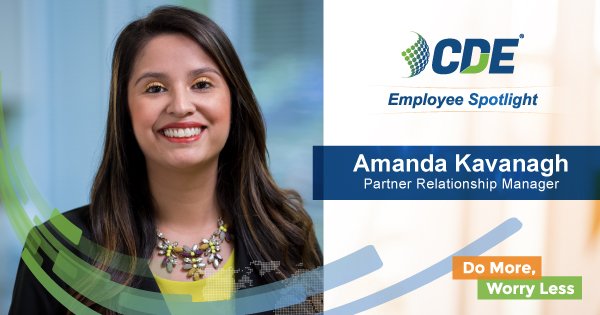 Employee Spotlight: Amanda Kavanagh
Quality partnerships are essential to CDE's success. That's why we decided to continue growing our team with Relationship Managers, to help ensure that we have the best communication with our partners and all their needs are being met. Amanda was hired earlier this year and has already proven herself to be a huge asset to the team and to our partners.
After graduating from the University of Texas at Brownville, with a degree in Early Childhood Education, Amanda quickly found that she preferred working in customer service or retail. She spent time working as a store manager for retail stores and gained a lot of experience in handling consumer needs while also keeping business operating.
After experiencing a different level of customer service while working as a trade school admissions representative, Amanda started working as an Inside Sales representative for restoration supply and certification company called Jon-Don. During her four and a half years at Jon-Don, Amanda learned a great deal about pairing great customer service with a sales mind by working both with individuals and large franchises as a main point of contact for all their questions and needs.
At another company, Microbilt, Amanda learned more about selling software and data, rather than tangible goods. In this position, she took her relationship management skills to the next level by supporting clients as they put in place highly technical solutions to improve their businesses.
After 2 years at Microbilt, we were lucky to have Amanda join our CDE Partner Relationship Management team just in time to continue supporting our own partners as they too, were adapting to new technology and launching more new solutions. Amanda is not only great at accommodating partner needs, she's even better at fostering meaningful relationships with the people she is working with, a quality that has helped her throughout her career.
Amanda says she's glad that to be at CDE during an exciting time of growth and change. She shared that she has especially appreciated how helpful the rest of the company has been in helping her learn the industry and succeed in her role. She says she believes there is plenty of room for growth at the company and is glad that everyone is so supportive and patient as she's still getting adjusted to payments.
When she isn't at CDE, Amanda enjoys spending time with her daughter, Madeline, shopping and going out to eat. She is also an avid Washington Capitals hockey fan and spends the season watching the games in her Captials gear.
in Employee Spotlight, CDE News