Doreen Row fills two critical roles at CDE: Controller and Head of Human Resources. At first look Doreen crunches the numbers while keeping the books, the employees, and her office, very organized. She is a CPA with a BBA and an MBA from Niagara University and 25+ years accounting experience. As a CDE employee since September 2014, Doreen considers herself part of the "new generation" of CDE's employees. CDE was established more than 25 years ago and some employees have been there since the beginning. She lovingly refers to those as "legacy team members." As head of HR she explains that the 2 cultures, old and new, are coming together for the betterment of CDE itself. Just like the payments industry, CDE is rapidly is changing and growing.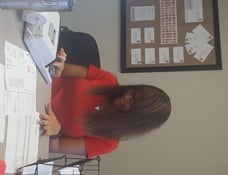 Since Doreen began at CDE she's been involved in their evolution from a POS terminal repair company, to a full service customized solution company with many other services. These changes within CDE are a reflection of the payments industry changes. With EMV, new touch screen technology, many other changes she tells me that "without change you're outdated, and being outdated in this industry isn't an option." She's only been doing accounting in the Payments Industry for two years but she's witnessed lots of change. She understands that the only way to grow is to be nimble. For a large company that kind of agility has to come from efficient systems, and enthusiastic, high quality employees.
As Controller, Doreen explains that in the last 2 years CDE has updated its financial software and processes completely to scale up with their rapid business growth. In fact, Doreen is critical in knowing when it's time to scale up. With the changing payments landscape and changing technology, business began to increase for CDE. She realized that their financial infrastructure would need to follow suit. This led to not only new software and more automated processes where possible, but also shorter close times and more efficient reporting. This efficiency gives them time and resources to focus on big picture growth. "We're building out the system while we grow. We're completely building business segments and making sure our machine stays oiled with each new segment." With her finger on the pulse of the financial growth and personnel growth, she mindfully watches for when changes need to be made within their systems and financial process.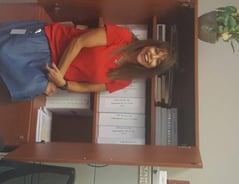 After noticing her engraved tumbler, I managed to get her to spill the beans that tennis was a real passion for her. She couldn't hold back the smile when telling me, "I actually made it to the city finals this year." She laughed, "Next year I'll win it." Doreen even won the CDE women's push-up and wall sit challenge – and almost won the plank challenge.
Doreen helps straddle the line of CDE's legacy business, new business, legacy team members, and new team members while keeping CDE's long term growth goals in mind. She leads by example at CDE and is a symbol of the mindful growth and the merging cultures at CDE Services. When Doreen isn't killing it on the tennis court, spending time with her daughters, or at the gym at 1:30pm like clockwork, she's helping CDE navigate the payments industry by listening to both the numbers and her fellow employees. In her 2 years at CDE both the number of employees and CDE's revenue have doubled. That's a big accomplishment that can only come with a company who is open to change, opportunity, and team work.